Designing UX Portfolio from Scratch | DETAUX #7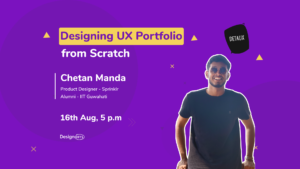 A world that is changing, requires innovating how we teach!
We present to you DETAUX by 
Designerrs
, a series of Online Talks from Design Industry Experts and Leaders to DETAUX yourself from misconceptions on topics such as UX/UI Design, Conversational Design, Designing for Immersive Experiences, Design Management etc.
Which topics will be covered?
1. Designing a UX Portfolio from Scratch.
2. How to collate material and present projects in Portfolio.
3. What, Where and How to put your Portfolio ?
4. Making your Portfolio Unique.
Who is the speaker?
Product designer at Sprinklr,
Alumni – IIT Guwahati
Who should attend this event?
UX/UI Designers, Product Managers, Developers, Artists
Startup Founders, Investors, Design Thinkers
College Graduates and Design Enthusiasts
How does it benefit you?
1. Interact one on one with design industry experts from Tier 1 companies such as Samsung, Google, Microsoft etc.
2. Understand best UX practices and methods from the exceptionally brilliant design team leaders.
3. Learn from their stories, live project experiences, and case studies.
4. Apply your learning practically in your Design Process.
Date: 16th August 2020
Time: 5 p.m.
Venue: DesignerrsLIVE (Online)
So, let's get together this time and learn more about ""Designing UX Portfolio from Scratch"". Do come prepared with all your questions.
Join us in our mission to create the Next Million Designers and get to be a part of our community of 15k design enthusiasts to sign up for a life long learning experience.
Stay In. Stay Live.
Best tips for Designing UX Portfolio from Scratch