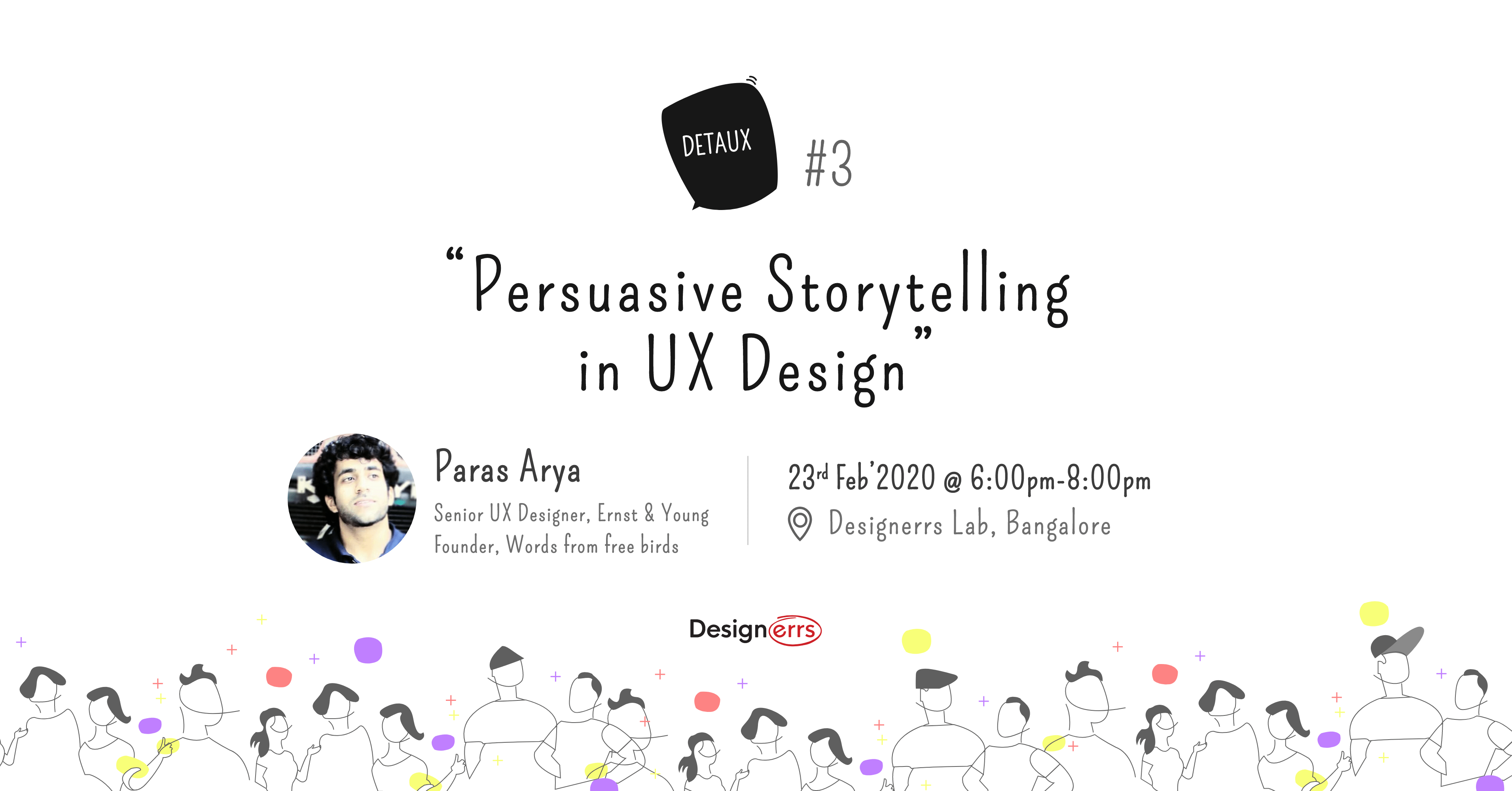 Persuasive Storytelling in UX Design | DETAUX #3
What is DETAUX ?
DETAUX is a series of networking and knowledge sharing events for design enthusiasts to DETAUX (aka. Detox) yourself from misconceptions about various topics in the field of Product Design, UX/UI Design, Design Thinking, Conversational Design and Immersive Experiences.
Interact one on one with design industry experts from Tier 1 companies practicing best UX Practices, Methods and leading design teams. Learn from their stories, live project experiences, case studies, gain clarity about various UX Methods and apply them practically in your design process.
So lets get together and DETAUX yourself from misconceptions about "Story Telling for User Experience".
What is Designerrs Lab? 
Designerrs Lab is a training and consulting studio focused on providing design-focused corporate training & individual courses for UX/UI Design for Mobile/ Web, Immersive (AR/VR), Conversational Design Experiences, Design Thinking and Digital Product Design.
With a team of expert alumni graduated from NID's and IIT's with industry experience in companies like Samsung, Microsoft, Google, ThoughtWorks etc, we have been able to solve problems in the domains of education, finance, e-commerce, real-estate, etc using our expertise in the field of Web, Mobile, Augmented/ Virtual Reality, Tangible User Interfaces, Artificial Intelligence etc.
Who should attend this event?
UX/UI Designers, Product Managers, Developers, Artists
Startup Founders, Investors, Design Thinkers
College Graduates and Design Enthusiasts
Who is the speaker?
Paras Arya
Senior UX Designer @ Ernst & Young
Founder – Words from Free Birds
Ex Inc42 Media, The Duo Kids
IIT Delhi
Which topics will be covered? 
– What is Storytelling?
– Different Concepts in Storytelling
– Application of Storytelling Concepts in UX Design
– Case Study Discussion
– Practical Activities on Applying Storytelling in UX Design
Date: 23rd February'20
Time: 6 p.m. – 8 p.m.
Venue: Designerrs Lab Bangalore (303, 3rd Floor, Pine Platinum, L-4, L-29, 2nd A Main, HSR Layout, Sector 6, Near JS Tower, Bangalore, Karnataka 560102), DesignerrsLab
P.S. Get yourself UX Goodies, Snacks, Drinks to keep your energy high 🙂