Design Sprints during COVID-19 | DEATUX #10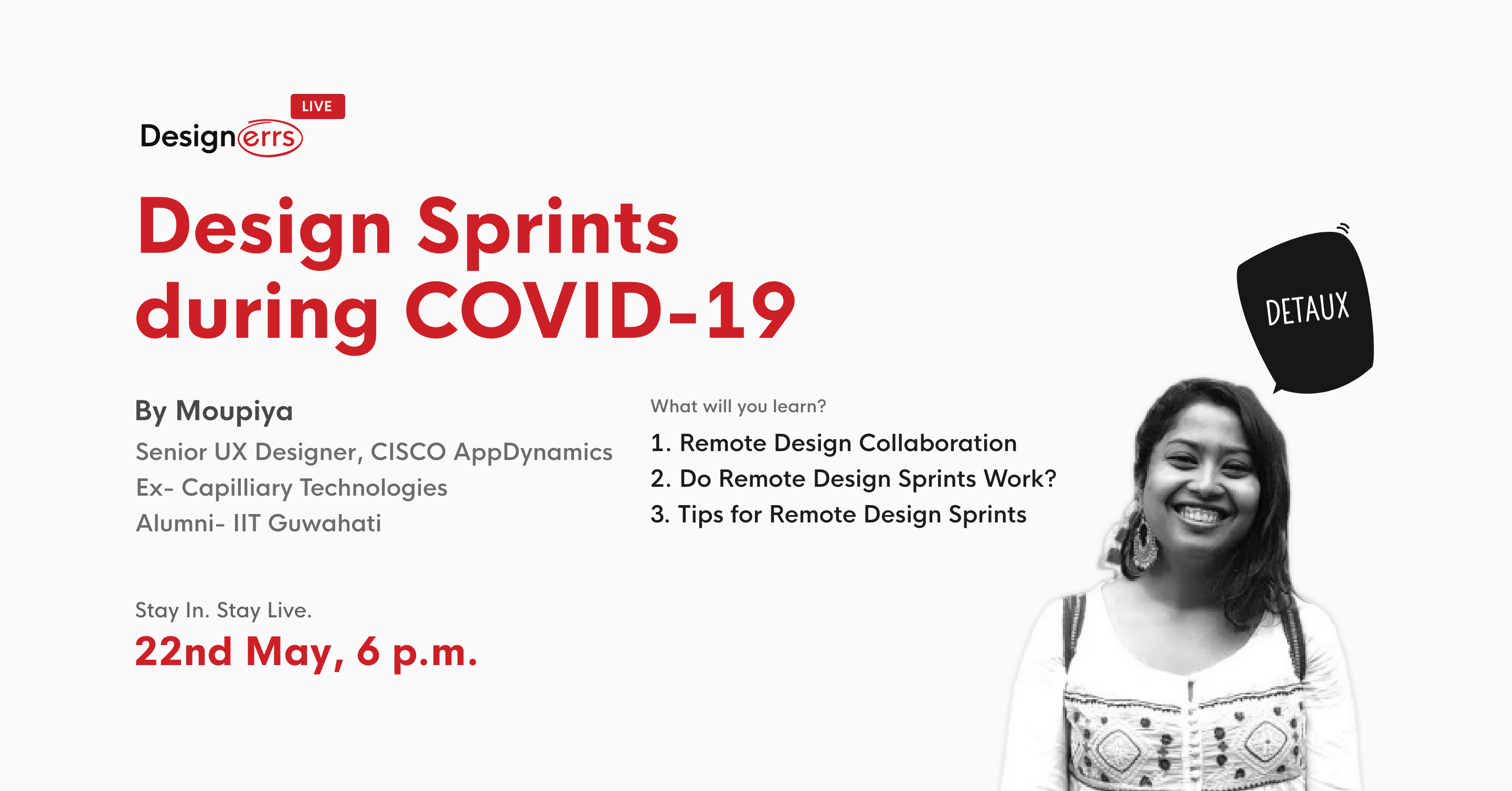 A world that is changing, requires innovating how we teach!
With the combined force of DesignerrsLIVE and DETAUX, we bring to you a series of Online Talks and Workshops from Design Industry Experts to DETAUX yourself from UX misconceptions on topics such as UX/UI Design, Conversational Design, Designing for Immersive Experiences, Design Management, etc. and many other interesting and knowledgeable topics.
How does it benefit you?
1. Interact one on one with design industry experts from Tier 1 companies.
2. Practice best UX practices and methods from the exceptionally brilliant design team leaders.
3. Learn from their stories, live project experiences, and case studies.
4. Apply your learning practically in your Design Process.
So, let's get together and learn more about conducting "Design Sprints During COVID 19" at our next event.
Designerrs Lab is a training and consulting studio focused on providing Design Corporate Training & Individual Courses for UX/UI Design for Mobile/ Web, Immersive (AR/VR), Conversational Design Experiences, Design Thinking and Digital Product Design in Delhi, Bangalore, Mumbai, Hyderabad, Pune, and Chennai.
With a team of expert alumni graduates from NID's and IIT's with industry experience in companies like Samsung, Microsoft, Google, ThoughtWorks, etc, we have been able to solve problems in the domains of education, finance, e-commerce, real estate, etc., using our expertise in the field of Web, Mobile, Augmented/ Virtual Reality, Tangible User Interfaces, Artificial Intelligence, etc.
Who should attend this event?
UX/UI Designers, Product Managers, Developers, Artists
Startup Founders, Investors, Design Thinkers
College Graduates and Design Enthusiasts
Who is the speaker?
Senior UX Designer- CISCO, AppDynamics
Ex- Capillary Technologies
Alumni- IIT Guwahati
Which topics will be covered?
1. Remote Design Collaboration
2. Do Remote Design Sprints Work?
3. Tips for Remote Design Sprints
Date: 22nd May 2020
Time: 6 PM
Venue: Online Zoom Session
Note: Meeting URL of Zoom Video Session will be shared 2 hours before the session over your registered email. Make sure to install the Zoom app before that. Download Zoom.
Let's get some real expertise and experience from the lady herself. Do come prepared with all your questions. Join us in our mission to create the Next Million Designers!
Stay In. Stay Live.