Learn UX/UI Design | Online Demo Session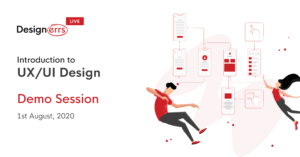 A world that is changing, requires innovating how we teach.
We present to you DesignerrsLIVE, which is a series of online talks, workshops, and discussions for design enthusiasts, who want to stay connected with the design community, understand the latest design trends, principles, systems in practice in the industry and work together on projects with design industry experts.
In the session by Mr. Atul Chhabra, you will get introduced to UX/UI Design and Design Thinking Process. Are you new to UX/UI Design? Don't worry! He will help you in your transformation journey into starting your career as a UX/UI Designer in the design industry.
What is Designerrs Lab?
Designerrs Lab is a training and consulting studio focused on providing design-focused corporate training & individual courses for UX/UI Design for Mobile/ Web, Immersive (AR/VR), Conversational Design Experiences, Design Thinking and Digital Product Design.
With a team of expert alumni graduated from NID's and IIT's with industry experience in companies like Samsung, Microsoft, Google, ThoughtWorks etc, we have been able to solve problems in the domains of education, finance, e-commerce, real-estate, etc using our expertise in the field of Web, Mobile, Augmented/ Virtual Reality, Tangible User Interfaces, Artificial Intelligence, etc.
Who should attend this session?
College Graduates, Working Professionals
Designers, Engineers, Product Managers, Artists
Anybody wanting to jumpstart a career as UX/UI Designer
What will be covered in this session?
1. Introduction to UX & UI Design
2. Good & Bad Design
3. Difference Between UX & UI Design
4. User-Centered Design Process and Methods
5. What is Interaction Design?
6. Hands-on Designing Experience
7. Get to know about UX Journal
8. UX Design Industry Landscape
9. Different Job Roles in the Design Industry
10. Understanding Design Portfolios
11. Cracking UX & UI Design Interviews
Who is the speaker?
CEO Designerrs, Ex Lead Designer Samsung,
Wooplr, Lloyds Bank UK, TCS,
Alumni – NID Bangalore
Date: 1st August'20
Time: 11 a.m. – 1 p.m.
Location: DesignerrsLIVE (Online)
Stay In. Stay Live. and keep solving problems, because that what matters the most now. Join us in our mission to create the Next Million Designers !!